03 June 2012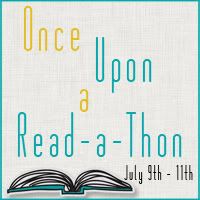 Hey! So I decided to join in the fun of the Once Upon A Read-A-Thon! A have a hugeTBR pile and so this is a great event to tackle it :) My goal this summer is to get through my TBR pile and start of with a fresh slate. So to help out with that I have joined this event. It is from July 9 to July 11. All you have to do is set a goal of the number of books you will read during that time period and try to accomplish it. So....my goal is to read 10 books!! The 10 books I plan on reading are the whole House of Night series by P.C & Kristin Cast!
Marked
Betrayed
Chosen
Untamed
Hunted
Tempted
Burned
Awakened
Destined
Hidden


About Me
Archives

Ahoy Mateys!
Hey guys! My name is Cierra and I'm a southern college YA bookie. Thanks for stopping by Books Ahoy. Here you'll find reviews, giveaways, interviews, and more! Thanks for stopping by and I hope you enjoy your stay! :)

Rating System

AMAZING!!! Go get this book right now!!

Great! Highly Recommend

It's ok. Borrow from a friend material.

Not that good but at least read the blurb.

Leave it on the shelf!