24 May 2011
Hi! First off I want to thank everyone who gave me their opinion on which one to get, it really helped alot!So as you all know I have been in a real tough spot in deciding whether to get the Nook Color or the regular Nook. Well, I decided neither because I just so happened to be browing Barnes and Noble's website and guess what I saw!!!! I saw that they created a new version of the Nook and it comes out June 10,2011. In my opinion its better than the Kindle. Ok so here it is: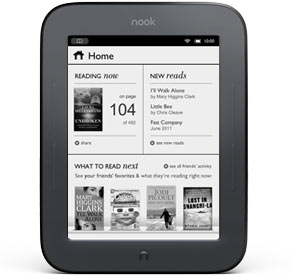 It has e-ink with no glare (plus!), a 6 inch touchscreen (plus!), the battery lasts up to 2 months on one charge (plus!), under 8 ounces (plus!), you can check out e-books from your public library (plus!), supports PDF (plus!), 2GB of storage (plus!), has over 2 million books to buy (plus!), and last but not least it is only $139 (plus!).
As you can see this meets all my requirements so this is the e-reader I will be purchasing :)! I'm so excited!!!! If you want to learn more about the new Nook click
here
.
What do you think, does it sound like a winner?
About Me
Archives

Ahoy Mateys!
Hey guys! My name is Cierra and I'm a southern college YA bookie. Thanks for stopping by Books Ahoy. Here you'll find reviews, giveaways, interviews, and more! Thanks for stopping by and I hope you enjoy your stay! :)

Rating System

AMAZING!!! Go get this book right now!!

Great! Highly Recommend

It's ok. Borrow from a friend material.

Not that good but at least read the blurb.

Leave it on the shelf!